Welcome to www.drselectronics.de (the "DRS Site"). The DRS Site is offered to you conditioned on your acceptance without modification of the terms, conditions, and notices contained herein (the "Terms"). Your use of the DRS Site constitutes your agreement to all the Terms. Please read the Terms carefully, and keep a copy of them for your reference.
Privacy
Your use of the DRS Electronics Site is subject to our Privacy Policy, which is available here.
Electronic Communications
By entering your email address to create an account or by placing an order on the DRS Electronics Site, you consent to receive electronic communications from us, including promotional and marketing materials. You may unsubscribe from these communications at any time.
Your Account
If you use the DRS Site, you are responsible for maintaining the confidentiality of your account and password and for restricting access to your computer, and you agree to accept responsibility for all activities that occur under your account or password. You may not assign or otherwise transfer your account to any other person or entity. You acknowledge that drselectronics.de is not responsible for third party access to your account that results from theft or misappropriation of your account. We reserve the right to refuse or cancel service, terminate accounts, or remove or edit content in our sole discretion.
Right To Access
Drselectronics.de does not knowingly collect, either online or offline, personal information from persons under the age of thirteen. If you are under 18, you may use the DRS Site only with permission of a parent or guardian.
Cancellation/Refund Policy
Customer may return their product within 14 days from their original order date as indicated on receipt in the original condition and not opened. If you have a defective product please contact us within 7 days of receipt for a replacement. Please contact us at info@drselectronics.de or call us at
+49 15770445960 with any questions.
Intellectual Property
The content, design, logos, and other materials contained on the DRS Site are protected by state and federal intellectual property laws. You shall not engage in any prohibited infringement, copying, duplication, or reverse engineering of such material.
Forum Selection & Governing Law
In the event the parties are not able to resolve any dispute between them arising out of or concerning these Terms and/or customer's relationship with drselectronics.de, then any action, complaint, or lawsuit must be filed in a court of competent jurisdiction in Cologne, NRW. Any action, complaint, or lawsuit filed in any other jurisdiction shall be immediately removed or transferred to a court in Cologne,NRW, and the party responsible for the improper filing must reimburse the other party for expenses and attorneys fees incurred to remove or transfer the action, complaint, or lawsuit to Cologne, NRW. Furthermore, the law of Germany shall govern any action, complaint, or lawsuit arising out of or concerning these Terms and/or customer's relationship with drselectronics.de
Class Action Waiver
Any dispute resolution proceeding, including litigation, arbitration, and mediation, must be conducted on an individual basis only and not in a class, consolidated, or representative action. The user and/or customer acknowledges and expressly agrees that this is a knowing, voluntary, and permanent waiver of any right to bring federal, state, or local claims as any part of, or on behalf of, any class or any other individuals, before a court or other tribunal.
Disclaimer of Warranties & Liability
The data and information contained on the DRS Site are provided "as is." All our products can be seen, tested & bought in our Office/Showroom in Germany. Your use of the DRS Site, including your purchases and transit request is done at your own risk. Tablet PC and Notebooks which are included in our packages are not produced by us therefore if there are any issues with them, they are to solved with the producing companies. These devices are also not included in our warranty.
To extent permitted by law, drselectronics.de EXPRESSLY DISCLAIMS ALL WARRANTIES in the following situations.
All causes of mechanical and cable defect.
Metal discrimination in different countries can be different depending on the soil and the minerals inside the soil and especially depending on the user on how he uses the device
Physical deformation
Damage while Transit.
Problems at the Border in the customers country (Product not passing through or send back)
In time the product is sent out via a transport company such as DHL/UPS/TNT and so on, the customer is responsible for all circumstances.
The arrival of the Product depends on the laws and circumstances of the border in his/her country. This duration can last from 2 to 30 or more days.
Severability
If any part of these Terms are determined to be invalid or unenforceable pursuant to applicable law including, but not limited to, the warranty disclaimers and liability limitations set forth above, then the invalid or unenforceable provision will be deemed superseded by a valid, enforceable provision that most closely matches the intent of the original provision and the remainder of these Terms shall continue in effect.
Entire Agreement
Unless otherwise specified herein, these Terms constitute the entire agreement between the user and drselectronics.de with respect to the use of the DRS Site and any transactions between the parties. These Terms supersede all prior or contemporaneous communications and proposals, whether electronic, oral or written, between the user and drselectronics.de
Changes to Terms
We reserve the right to change the Terms under which the DRS Site is offered. The most current version of the Terms will supersede all previous versions. Please feel free to contact us if you have any questions or concerns at info@drselectronics.de or +49 15770445960.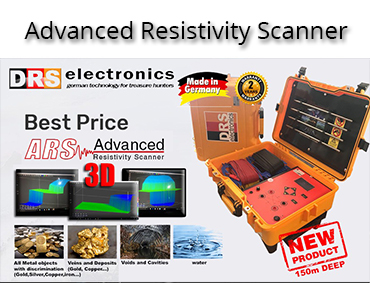 Advanced Resistivity Scanner
Our Advanced Resistivity Scanner (ARS) allows you to look for metals with discrimination (gold, copper, silver, iron), gold veins, minerals, caves/voids and even water. This is achieved through resistivity analysis. Resistivity is an intrinsic property that quantifies how strongly a given material opposes the flow of electric current.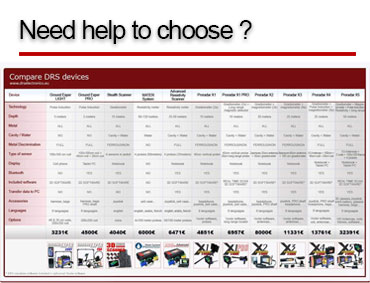 Click on "choose your device" below to compare all our devices. Please feel free to contact us or one of our dealers if you have any question on our devices.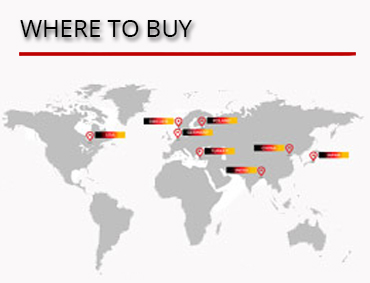 We have distributors all over the world where you can find our full range of products and accessories. You can also buy directly from our factory if there is no dealer in your country.